7 Double Din Car Stereo GPS FM Radio CD DVD Player Bluetooth with Backup Camera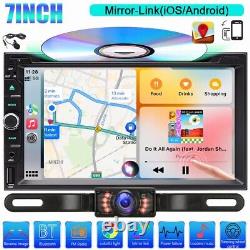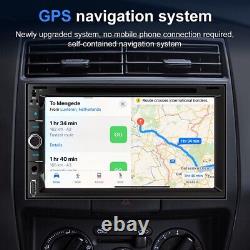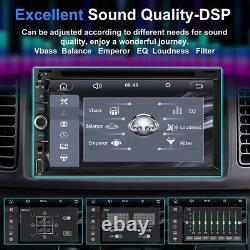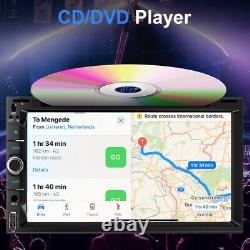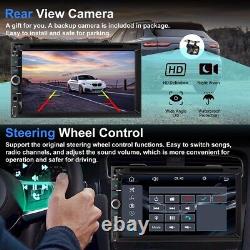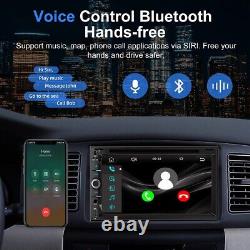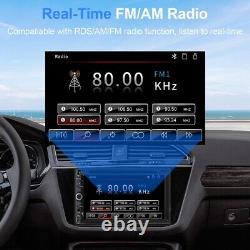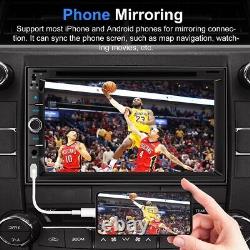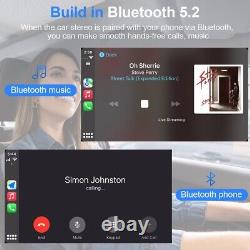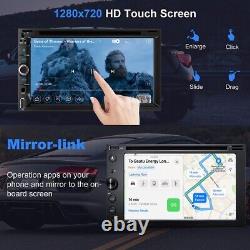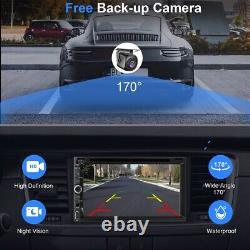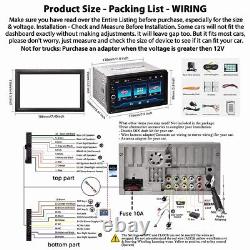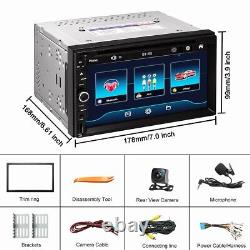 All applications are customized for car stereo, which is simple and convenient to control that making your driving much safer. On the car stereo radio. Such as Waze map, Amazon Music, Spotify, Pandora, etc. For your driving safety, Some video or social apps are not available, such as YouTube, Facebook, etc. 7 Inch Full Touch HD Capacitive Screen with Resolution 1280720.
Bluetooth 5.2 Hands-Free Calling and Audio Streaming. Built-in microphone and external microphone interface, provide clear call sound. HD Night Vision Backup Camera, Steering Wheel Controls(Excluding Accessories).
Multiple input modes: CD/DVD Player, Phonelink, USB device, TF card, Aux-in, Front/rear camera. Support MirrorLink Function & Boot Logo Customization. 7 Colors RGB LED Backlight Buttons.
Multi-Monitor display: If there are Monitors at the back of seat, just connect your monitors to the video output interface of the unit, it can support 3 monitors display at the same time. Wireless remote included: When you focus on driving, your family and friends can also operate remotely. Bluetooth Double Din Car Radio wth Steering Wheel Control & 30-Band EQ Settings. Steering Wheel Control - NOTE for Compatibility. Not for all car models.
The car stereo is designed to be connected to your vehicle's steering wheel control wire directly. If you connect it to your steering wheel control box, it may not be able to support its protocol. How to set steering wheel control buttons. Find your steering wheel control wire of the original vehicleKEY1/KEY2(there is no KEY2 in some car models)/ground wire.
Connect KEY1 to wheel 1 wire, KEY2 to wheel 1 wire, GND(Black) to GND. (Please refer to the actual harness).
The Learning Method of buttons is in the user manual. Enjoy great music on the road with the WOWiViD radio double-din DVD player. Playback of DVDs from any country is possible with the built-in Region-Free DVD player. The 7 touchscreen display will wow you with it's CD text information display as well as MP3 information display.
Support USB, TF card, AUX input. Warm Tips: Please remove the two screws on the top of the car radio before using the CD player. Bluetooth 5.2 with Dual MIC. Easy paring with your devices.
Stop dealing with poor quality and delays. Wide Angle Reversing Backup Camera. This head unit supports reversing rear view input, it would switch automatically while reversing or parking the car.
Ensure safety for your driving! The reversing environmental live detection, safe and convenient parking assist. Rear view camera is included: 170° wide view angle, night vision, and IP69 waterproof level. Note: support Android 11.0 and below; iPhone 13 series and below. On rainy days or on the highway, you can also listen to the radio, weather forecast, and news in real time, so that your driving is no longer boring. With a built-in preset EQ and user customized 30-band EQ options, this multimedia system is ideal for a wide variety of music styles and sound effects. Crystal clear sound and easily adjustable volume for the complete experience! Enjoy your favorite music or movies with this car radio with aux input which features a highly sensitive TFT HD capacitive touchscreen supporting 1920 x 1080P and lossless music playback! You can enjoy the music and videos on your car at any moment through multiple channels.
7 colors which switch automatically with the possibility to set a unique one of your choice, and stylish design for this multimedia system LED buttons! (Blue/ Green/ Cyan/ Red/ Magenta / Yellow/ White). Double Din Car Stereo with CD/DVD Player.
Bluetooth Car Stereo with CD/DVD Player. We recommend reading the user manual carefully at least once before installation and also make sure all the accessories are ready.
If the double din car stereo unable to power on or the time/settings can't be saved, you may connect the wrong wires. Make sure the correct connection of three wires.
ACC wire connects with the key power wire. B+ wire connects with the battery of your car, (Positive electrode of battery, 12V+ constant). GND wire connects with the ground (Negative electrode of battery). All the positive and negative wires should NOT touch each other after connected to avoid accidental contact. Between the positive and negative wires during startup and cause a short circuit.
Our car radio touchscreen is the U. Standard size which compatible with most brands of car models. Please measure if your dashboard opening size matches one of the following three sizes. If your dashboard size meets one of the three dimensions below, you can install our stereo directly. Commonly used sizes for car series in the U. And Europe: 175(W)×100(H)mm, 6.89(W)×3.94(H)inch. Commonly used sizes for car series in the Asian: 178(W)×100(H)mm, 7(W)×3.94(H)inch. Other common sizes: 188(W)×115(H)mm, 7.4(W)×4.53(H)inch. Some cars may also require two additional after accessories to complete the installation. Wire harness adapter for your car model. (Used to transfer your factory harness and ISO stereo wiring harness). Radio antenna adapter for your car model. You can find the correct aftermarket accessories by searching the year, make, and model of your vehicle on Goo-gle.
Such as: Hyundai Sonata 2008. Hyundai Sonata 2008 dash kit. Or Hyundai Sonata 2008 radio wiring harness. On Goo-gle or other online shopping websites.