ATOTO A6 Pro 2DIN Android Car GPS/A6Y2721PR-G/Dual BT with aptX/Gesture Operation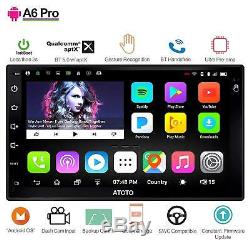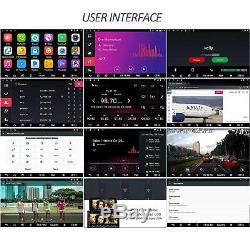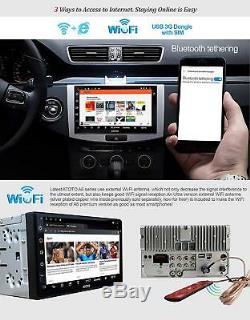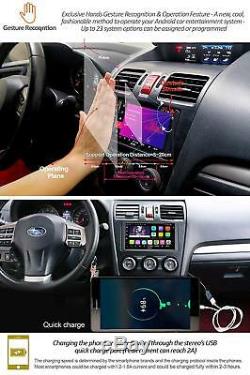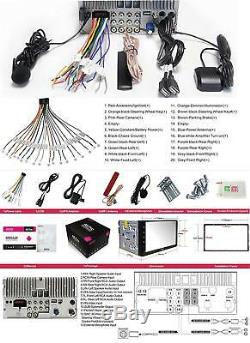 This model comes with 1000cd/m2 TFT-LCD display screen, which has highest brightness to help improve the viewing experience in daylight! Dual Wi-Fi band connection support means even if the routers/public hotspots are set AP band of 5Ghz, A6 Pro can still connect to it for internet access! Besides reversing camera video input, extra two video inputs (CVBS signal) allow users to connect up to 2 cameras simultaneously for special purpose (side camera view, front off-road camera view). Exclusive Hands Gesture Recognition Sensor allows driver to control ATOTO A6 with one more option, and it's very cool to use hands gesture to skip tracks, adjust system volume, and access other operations quickly; Only the ATOTO A6 Pro whose model number ends with "-G" has Gesture Operation.
In order to get the gesture sensor to work properly, please kindly check the installation requirements before purchasing! Latest ATOTO AICE OS 9.4 system firmware is applied, and it has lots of improvements compared with previous ATOTO AICE OS 9.3. Screen Lock option is now available for users to lock the screen when the car (car stereo) is not in their control (Valet Parking, vehicle taken by others).
New firmware update in future can be found on ATOTO Online Customer Service Support System(AOCSSsupport#myatoto#com). Latest Qualcomm Bluetooth 5.0 with aptX feature - Streams Wired Quality Sound, Wirelessly, (to enable this feature, your smartphone needs to support Bluetooth aptX, too); 2. Ultra powerful Toshiba pre-amplifier inside with higher RMS power output & excellent performance. Car speakers from 2 to 8 are all supported; Most preamplifiers can only power 4 - 8 , but certain users may add 2 door speakers to replace factory one for powerful listening. A6Y Pro Version with Gesture sensor (& 4 touching buttons available on the left).
MTK 8127A Soc-based Quad-core 1.5Ghz CPU with ARM Mali-450 MP4 GPU. ATOTO AICE OS 9.4, which is developed & customized based on Android 6.0 Marshmallow OS. English, German, French, Italian, Spanish, Portuguese, Arabic, Russian, Japanese.
Built-in Max 449W BTL Amplifier with RMS 429W (Vcc=14.4v, THD=10%); It can drive both 4 & 2 door speakers! Be aware that only emphasizing higher max power out does not make any sense, as RMS power out is the most acceptable and practical indicator (non-distorted) to tell its max performance for daily listening! With 12 section adjustable frequency.
Dual Bluetooth (BT1 5.0 & BT2 4.0). Bluetooth1 is Qualcomm Bluetooth 5.0 w/ aptX feature, and it supports HFP/HSP/A2DP/AVRCP/PBAP. Full HD 7 1024600 5-Touch Capacitive Touchscreen with ultra high brightness 1000cd/m2 display screen.
Builtin GPS Receiver module with external GPS antenna, and Google Maps app is installed as the default gps map, users may need to download offline map data for certain area for offline navigation if preferred. Other map/navigation apps from Google Play Store can also be installed. Latest Easy-connect app preinstalled, and it supports working with latest iOS 11.3 & Android 8.0 devices. 2 options (USB /WiFi) available for connecting to Android smartphone(Wi-Fi option is only for Android 7.1 or down), and 1 option (Air-play) for iOS device. All ATOTO A6 series have builtin microphone & Ultra external Wi-Fi antenna (Silver plated copper wire). For ATOTO A6 Premium / Pro version, external microphone is also provided! It can recognize 7 types of hands gestures (Move Up, Move Down, Move Forward, Move Backward, Circle clock-wise, Circle Counter-clockwise, Wave) & up to 23 options can be programmed. 4-CH RCA Audio Out (4V) for connecting to factory/aftermarket amplifier. Separate Sub-woof Out (4V) (Manual /Automatic mode available).
One Micro SD slot - to store media files, dash DVR records. 3 USB interfaces - Read USB Drive, and optional USB devices. Both USB interfaces and Micro SD slot can read unlimited external storage devices, including SSD Hard-drive, as long as it can be powered on with USB 500mA interface!
The double din size of ATOTO A6 series provide 5 types of front panel size as option: 173mm97mm, 178mm101.5mm, 205mm104mm(Toyota specific), 8in VW specific, and Ultra 10.1inch, and their model name start as A6Y27xxxx, A6Y17xxxx, A6YTY7xxx, A6YVW8xxx and A6Y1021xxx. Most dashboard mounting frame suppliers from North America may provide double din mounting frame with 174mm98mm opening (Metra dash kit, PAC dash kit, etc).
ATOTO is the first one to bring Android 7in car stereo with minimum 174mm97mm front panel dimension! An extra plastic frame is also included in the package to extend its size to 178mm101.5mm. All ATOTO A6 Standard/Premium/Pro models do not provide iPod ready/headrest video output option. ATOTO A6 Standard version does not have 2A Quick Charge feature, and no external microphone is included in the package.
Actually, builtin microphone is good enough for Bluetooth hands-free in daily use. Optional parts for working with ATOTO A6 are provided separately: 1.
ATOTO On-dash DVR Camera (via USB interface); 2. ATOTO Steering wheel control IR Remote; 3. ATOTO USB TPMS (tire pressure monitoring system); and some of them requires to be connected before installing A6. So to avoid removing and re-installing hassles, (if you need them), purchasing & installing them with A6 together is highly recommended.
Latest firmware downloading source and updating guide can be found on AOCSS (ATOTO Online CS System). Exclusive Hands Gesture Recognition & Control features - Operate the ATOTO A6 with a much safe, cool way - up to 23 options can be programmed. Safe driving has been one of the top concerns for every driver. Some old cars do not have factory steering wheel audio control feature, or keys for quick controlling are less, and even there are buttons on the left/bottom of the car stereo, it is still unsafe in certain cases. The Gesture control option available on selected ATOTO A6 Pro models allows users to access certain apps, skip tracks, adjust volume, or other quick actions easily with different hands gestures.
Proficient operation can be done without keeping the eyes on car stereo. The gesture sensor is managed by inside gesture app, and users can enable or disable certain gesture freely.
Currently there are 23 options that can be programmed/allocated for being controlled by 7 gestures. There are initially 9 gestures available from this gesture sensor, but the first 2 were disabled permanently, more information can be found from ATOTO online web support system. As the gesture sensor needs to send out infrared ray (940nm spectrum) to seize the gesture movements, and sunlight also has this 940nm spectrum, the performance may be slightly interfered in strong daylight when too much sun light goes in and it may let the Hands Gesture sensor be mildly blind/dazed to driver's gesture movements. Certain vehicles may not be qualified for installing the ATOTO A6 Pro that comes with gesture sensor feature, due to the facts that: 1. Some installation mounting kit may have a concave double din opening, which might (partially) block the IR light from casting to form a complete pyramid-shaped operation area, and certain gestures may not be recognized successfully; 2. For certain vehicles, the operation of turning the steering wheel may cause the hands to go through the gesture operation area, or the operation of turning on wiper controller may also cause the same effect, and the system responds/reacts unexpectedly. Please kindly read the document "ATOTO A6 Pro Gesture Sensor Installation Requirements" for more information before making decision. Dual Bluetooth chips, connectable to more Bluetooth-based device & Qualcomm Bluetooth 5.0 w/ aptX Feature - Streams Wired Quality Sound, Wirelessly.
The Bluetooth 1 works as Bluetooth hands-free (call/answer) with A2DP streaming audio feature. Contacts/recent records will be synchronized once smartphone is connected. All the contacts can be searched by manually typing or A-Z filtering and users can add certain contacts to "Favor" list for quick dialing! Easy pairing & connection - 2 steps, finishing within 2-3 seconds! ATOTO A6 Pro models apply latest Qualcomm Bluetooth 5.0 w/ aptX Feature - it could help decode the high quality audio delivered from phones that Bluetooth of which are also supporting aptX coding/decoding technology, and play the music at Wired Quality Sound level, yet wirelessly.
Even though the average Bluetooth streaming solution is enough for the majority, there is still regret for these hypercritical people (who are more obsessed with wired CD music). Media ID3 info(song name, singer and album) will also be synchronized when using Bluetooth A2DP audio streaming, and dynamic sound spectrum displays when music is playing. Just say goodbye to an empty playback screen! The Bluetooth 2 not only works as Bluetooth tethering internet, but also allows to connect to Bluetooth game pad(for kids in rear seats), Bluetooth OBD2, Bluetooth TPMS, and transferring files between A6 and smartphone is also supported! Now the A6 can work with most of the Bluetooth OBD2 devices (other android car stereo brand may only supports basic OBD models from them) and other Bluetooth enabled devices(installed for car use) that are available on the market, as long as they are compatible with smartphone's Bluetooth!
The system allows to connect up to 3 devices simultaneously(one for audio, two for data communication). Android Car Stereo is not the equivalent of putting an Android tablet in the car. The ATOTO A6 has lots of inputs and outputs customized for working better in car. Reversing camera input for connection to any backup camera that has standard CVBS video signal out (RCA interface). USB interfaces for connecting to USB On-dash camera/ 3G dongle/ TPMS & more!
AUX audio(Left/Right)/video input. Ultra Pre-amplifier IC & Latest IPS Display screen. The pre-amplifier IC applied to ATOTO A6 Standard & Premium version has been the best one we found that could perform so excellent in processing treble, middle & bass audio and get a positive balance. Now the A6 Pro applies newest & much more powerful Toshiba preset amplifier IC (4x49 Watts BTL Max output & 4x29w RMS output).
Under the condition of non-distorted audio amplifying & delivering requirements, the RMS 29w power output lets user experience more powerful, more natural music/audio. It can drive both 4 and 2 door speakers.
ATOTO A6 Pro A6Y2721PR/A6Y2721PR-G applies highest 1000cd/m2 display screen, which also helps improve viewing experience in strong daylight. More options for internet access.
More than 300 apps from Google Play Store have been tested installable on ATOTO A6 Series. Thanks to Ultra external Wi-Fi antenna (Silver plated copper wire), WiFi reception has been significantly improved, and the reception of ATOTO WiFi can be comparable to some smartphones! Most users need to run online map or stream music online on Android car stereo and these requirements do not need high bandwidth(less than100kb/s), Bluetooth tethering connection is enough. The records tested on ATOTO A6 with iPhone 7 via Bluetooth connection are up to 180kb/s.
WiFi hot spot option from smartphone has much higher power consumption. Both 2.4Ghz & 5Ghz Wi-Fi Band are supported for connection. Highest Compatibility For Vehicle Fit/Installation. There has been a consensus on the dimension of double din in dash metal case for installation (178mm100mm/7"x3.94"), But there's no agreement on dimension of the front face-plate part. So lots of users encountered issues /hassles with other 2 din head units when installation dash kits are applied.
Most installation dash kit brands provide 2 din mounting frame with 174mm98mm, 179mm x 102mm, or 189mm x 117mm opening (connects2, autoleads, etc). ATOTO A6(Y)27xxx can fit perfectly! No trimming/cutting job is needed! Powered by inner PMS IC, ATOTO A6 Premium/Pro can deliver power to smartphone faster than other Android car stereos (500mA - 600mA). Fast Boot - Access the system less than 2 seconds.
To speed up the boot time of Android system from 25s to only 2s is never easy. Protecting car battery from draining out, as well as ensuring quick boot available every time you start the engine are the two key essentials. This feature has been tested in more than 40000 pcs of ATOTO products (M4 & A6) and is reliable enough. The inner clock will count and if the vehicle is parked for more than 7 days, it will be automatically powered off to save car battery power. Constant Firmware Update From ATOTO.
ATOTO has been continuously improving the system firmware of ATOTO A6 series every a few weeks or months once necessary. The latest firmware version has been updated to ATOTO AICE OS 9.4.
Get continued firmware update when available to ensure less bugs and new features are added. Users can find the availability of firmware update notification from ATOTO AOCSS.
Login AOCSS to learn more. Privacy protection option has been added since AICE OS 9.4. Registering product could help users to get help easily with top priority (since we could access the initial order details & product SN information up on receiving your request). ATOTO AC-4486/ AC-0587 Rear view camera. These cameras have been confirmed working with ATOTO A6 series flawlessly.
Users can also connect rear view camera from third party suppliers to ATOTO A6, as long as they have a standard CVBS RCA video out and a reversing detection signal wire. ATOTO AC-44F4 Wireless Steering wheel control remote. For cars without original steering wheel control, or not resistance analog signal based steering wheel control, users can operate the system without hands away from steering wheel during driving!
ATOTO AC-4450 Bluetooth OBD Diagnostic Scanner/Scan Tool. Connecting it to ATOTO A6 Series to read engine data on the HD touchscreen via built-in Torque App. ATOTO AC-44P1 USB On-board dash camera. (also called DVR) - - There is also a USB dash camera that works with this unit via USB connection, user can view videos and lock important video files from the product screen, taking a screen shot is also available. ATOTO AC-UTP1 (or AC-UTP2) USB TMPS system.
ATOTO USB TPMS Tire Pressure Monitoring Sensor allows user to view tire pressure, temperature and underinflated alerts easily. ATOTO AC-44B3 USB DVD/CD Box. AC-AGE3 mounting Kit Securing Cage. Certain vehicles from European market may require extra mounting securing cage during installation, and this could help make installation easier and clearer.
ATOTO A6 Series also support connecting with a USB 3G/4G Dongle stick. Compatible USB Dongle model lists can be available from ATOTO Customer service support team. Vehicle specific Plug-N-Play wiring connector. ATOTO collected information for certain car brands in the past and manufactured several specific Plug-N-Play wiring connectors (only applicable to ATOTO A6Y27xxx, not for ATOTO A627xxx).
AC-ITY2 for selected Toyota models. AC-ISS2 for selected Nissan models. AC-IHD2 for selected Honda models. AC-ISK2 for selected Suzuki models. AC-IFD2 for selected Ford models.
AC-IHY2 for selected Hyundai models. AC-IKA2 for selected Kia models.
AC-ISR2 for selected Subaru models. AC-IMD for selected Mazda models. ATOTO AC-4486 Waterproof Hidden / Concealed License Plate Rear View Camera. Search with Model Number online. ATOTO AC-0587 Waterproof Rear View Camera.
Search with Model Number online or visit this page. ATOTO AC-AGE3 mounting Kit Securing Cage. ATOTO vehicle specific Plug-N-Play wiring connector -- for selected Toyota models.
ATOTO vehicle specific Plug-N-Play wiring connector -- for selected Nissan models. ATOTO vehicle specific Plug-N-Play wiring connector -- for selected Honda models. ATOTO vehicle specific Plug-N-Play wiring connector -- for selected Suzuki models.
ATOTO vehicle specific Plug-N-Play wiring connector -- for selected Ford models. ATOTO vehicle specific Plug-N-Play wiring connector -- for selected Hyundai models. ATOTO vehicle specific Plug-N-Play wiring connector -- for selected Kia models. ATOTO vehicle specific Plug-N-Play wiring connector -- for selected Subaru models.
ATOTO vehicle specific Plug-N-Play wiring connector -- for selected Mazda models. PS: Devices mentioned above are not included; users can search them with product model number online for availability. This product has no headrest ready/video output. Unless you have headrest monitor in your car, or else you do not need this feature. There is no option to set or change startup car logo.
It is easy to add into this item but we cant, as it infringes the car maker's IP (intellectual property), so it is illegal! So we only installed Google Maps app, buyers need to download offline regional data for full navigation. Waze /HERE-WeGo /Tom-tom are also supported. Other sellers on this market may provide a SD card loaded with pre-installed map & data, but it is actually cracked version.
Whats more, it is illegal, and upgrading from these map developer official website is totally unavailable! We are confident with our product's quality and performance, so for quality-related issues, we accept. Repair at our labor + parts cost within 1 Year. The item "ATOTO A6 Pro 2DIN Android Car GPS/A6Y2721PR-G/Dual BT with aptX/Gesture Operation" is in sale since Thursday, October 11, 2018. This item is in the category "eBay Motors\Parts & Accessories\In-Car Technology, GPS & Security\In-Car Entertainment\Car Stereos & Head Units".
The seller is "atotodealerusa" and is located in CA,USA. This item can be shipped to United States.
Port: Micro SD
Model: A6Y2721PR-G
Operating System: Android
Unit Size: 2 DIN
Features: Bluetooth
Manufacturer Part Number: A6Y2721PR-G-USA
Brand: ATOTO
Screen Size: 7 in