ATOTO F7 XE 7in Car Stereo Double 2DIN SXM Radio Wireless CarPlay & Android Auto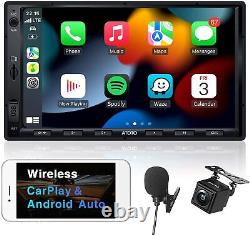 NOTE: Here has multi option to choices, please kindly to check option picture before order. Model: F7G2A7XE-NA; Operating System: Linux 4.9.217; Mounting style: UDH07D (Universal Double DIN with a 7-inch Display).
WIRELESS & wired CarPlay and WIRELESS & wired Android Auto. (compatibility information is specified in the corresponding sections below). Full HD 7 1024600 QLED. Display screen with a 178° full-viewing angle (brightness 600cd/m2); 5-Touch Capacitive Touchscreen. 449W, RMS 429W built-in amp. (Vcc=14.4v, THD=10%); 10-band EQ with 7 presets.
(a SiriusXM Connect Vehicle Tuner and subscription are required, not provided). F7G2A7XE-NA comes with a specific hardware solution to integrate iOS CarPlay or Android Auto into its system so that you can run iOS Maps or Google Maps/Waze/TomTom etc. HD 720P Front and Rear View Input with Live Rear View. Powered by inner PMS firmware, F7G2A7XE-NA can deliver power to smartphones faster max.
Supports hands-free calls and streaming music; safer driving when you can answer calls/hang up, play/pause, switch tracks, adjust the volume, etc. On the head unit, with the steering wheel controls, or with ATOTO ACEB44F5 wireless IR remote (not included). With 8 functions in total enable you to perform simple tasks such as turning down the volume during driving with ease. 3 video inputs, Reversing Camera Input, AUX Audio/Video In & Front Camera Video In, can process 720P HD video signals. For reversing camera input, you can connect a specified ATOTO HD rearview camera to F7G2A7XE-NA for 720P video display (most other head unit brands can only process CVBS 480-600 lines video signals). For F7 XE head units, the specified rearview camera is ACEBHD02LR.
2 RCA Headrest Video Outputs; 4-CH RCA Audio Out (4v) for connecting to a. Separate Subwoofer Out (0.8v full range).
One Micro SD slot - to store media files, up to 512GB. The latter reads up to 2TB SSD.
Both SD & SSD must be in FAT32 or NTFS format. Typically, North American dashboard mounting frame suppliers Metra, Scosche, PAC, etc. Provide double DIN mounting frames with a 174 mm98 mm opening, limiting the screen size of aftermarket head units to 6.75-inch or smaller (false 7-inch). If needed, an extra frame adapter is also included to expand it to 178 mm101.5 mm. Compatible with 3rd-Party dash kits. The ISO Standard chassis size for double DIN head units is 178 mm100 mm. In the case of the frontal faceplate, however, there is no such standard.
As a result, many users have issues mounting head units from other brands with dash kits commonly available on the North America market. F7G2A7XE-NA, on the other hand, with its faceplate size of 172 mm97 mm, is compatible with products from most North American dash kit brands Metra, Scosche, PAC, etc. Compact chassis for more room.
The chassis is only 50-mm deep, shorter than the typical depth. Therefore, there is a larger space for cabling and other accessories. As this is a universally fit head unit, extra accessories may be required to finish installation in a specific vehicle (not provided in the package). They may include (but are not limited to) a dash frame kit, a wiring harness, a radio antenna adapter, a data interface, etc.
We highly recommend the customers take the product to a professional car audio store to finish the installation and ensure connection wires are fully protected. ATOTO CAEBAEC01 Compact 4 Channel Power Pack Amplifier (47 watts RMS x 4), a plug-n-play sonic upgrade for your vehicle. ATOTO CAEBAEC02 Plug-n-Play 4 Channel Power Pack Amplifier (60 watts RMS x 4), a punchy audio booster with SPDIF input.
ATOTO ACEB44F5 Steering wheel control IR Remote. ATOTO ACEBHD02LR Live Rearview Camera (F7 is NOT compatible with ACEBHD03LR).
WIRELESS CarPlay and Android Auto! The advantages of CarPlay/Android Auto on F7 XE.
No more search for a holder which you find to be superfluous anyway. No more entangled cords to distract you.
For wireless CarPlay/Android Auto, the Buetooth connection is quick. And after you make the connection for the first time, it will all be automatic.
Thanks to the premium hardware inside, F7 XE is more than capable of delivering stable and reliable data transmission, both wirelessly (5G Wi-Fi) and wiredly (with USB), which is a strong bolster for you in driving. Great Performance Across All CarPlay/Android Auto Functions. Now we can make calls, send/receive messages, listen to music/radio/podcasts/news/audiobook... On the head unit while driving really conveniently.
This, in turn, requires a head unit that can adequately meet the demands of these functions in terms of audio and visual performance. On F7 XE, the max. Amplifier with RMS 429W (Vcc=14.4v, THD=10%) makes sure that whether you are making a call, listening to your favorite music or podcasts and so on, you can hear things clearly at a comfortable volume, powerful yet without any distortion. Well, in our own customer's exact words:I'm told that the sound is very clear.
The full HD 7 1024600 QLED screen (brightness 600cd/m2), other than its fantastic ultra-clear color rendition, offers great visibility even in broad daylight. Also, as a 5-touch capacitive touchscreen, it is easy and smooth to operate on. This problem does not exist with F7 XE.
Be aware that not all car stereos can do this! Wired CarPlay is compatible with iPhone 5 or later models with iOS 7.1 or higher.
Wireless CarPlay is compatible with iPhone 5 or later models with iOS 9.0 or higher. Wired Android Auto is compatible with phones with Android 6.0 or higher. Original USB cable for wired connection. If you choose to use wired CarPlay or wired Android Auto, for fast charging, for instance, factory/original USB cables are required. 178° full-viewing angle 1024 600 QLED display screen, outstanding viewing experience. The QLED display technology is an innovation best known for its outstanding color rendition and brightness. Coming with a 1024600 QLED display screen with a 178° full-viewing angle, F7G2A7XE-NA offers a much better viewing experience in brightly lit areas. In addition, important app tips such as navigation prompts can be viewed more clearly. AutoLink (MirrorLink) allows you to cast what's displayed on your smartphone to F7's big screen. You can run online GPS navigation apps Google Maps, Waze, Tomtom, etc.
Or play videos on Youtube, etc. On F7G2A7XE-NA's 7-inch screen. AutoLink is compatible with the latest Android & iOS smartphone models. Considering that neither CarPlay nor Andriod Auto is compatible with video apps such as YouTube, AutoLink provides an alternative option.
Important: Some video streaming services Netflix, AMZ Prime, Disney +, etc. With very few smartphones with a curved screen, there will be a tiny black area on the 4 edges of F7G2A7XE-NA's screen.
This is caused by differences in firmware and the layout of the curved screen. Linux system does not support third-party application downloads. HD 720P rearview video display with Live Rear-View (LRV) feature. Typically, head units can only process and display 480-600 lines CVBS rearview video signals. Say goodbye to snowy static pictures when reversing your vehicle. Live Rear-View (LRV) - Now you can access the rear view even if your vehicle in moving ahead. This frees you from obstructions of passengers, headrests and the vehicle's roof and rear pillars, increasing the field of view and offering the driver a clear view of the lanes behind and common blind-spots.
You can set one of the steering wheel keys as a shortcut for quick access. It is easy to control/operate your ATOTO F7! While driving, reaching over and trying to operate the head unit can be distracting.
F7G2A7XE-NA makes it possible to map 18 frequently-used functions to factory steering wheel audio keys for convenient operation. For vehicles without steering wheel audio controls, ATOTO ACEB44F5 wireless IR remote is highly recommended. It does not, however, support key mapping (refer to its manual for details).
You can wake up Siri or Google Assistant by voice command, by pressing the physical key on F7G2A7XE-NA, or by pressing the corresponding button on your steering wheel (if applicable) or on ACEB44F5. SXM Radio - yet another entertainment option on F7G2A7XE-NA. SiriusXM brings you the widest variety in music, live sports, international news & nonstop comedy via its satellite radio services. Just plug in a SiriusXM Connect Vehicle Tuner i. SiriusXM SXV300AZV1 Satellite Radio Tuner Kit, not included in the package and enjoy.
USB audio/video playback & video outputs for headrest monitors. Built-in music/video player allows users to play back high quality audio and max. All you need to do is hook up an external USB storage device or a Micro SD card with media files on it!
It supports up to 512GB MicroSD & 2TB (2048GB) USB SSD for multimedia playback. Built-in video outputs in the back allow users to connect up to 2 monitors to F7G2A7XE-NA. The kids in the back seat will certainly love it! Powered by inner PMS firmware, ATOTO F7 can deliver power to smartphones faster than other head units (300mA - 500mA) while running wired CarPlay/Android Auto Max. Constant Firmware Update from ATOTO.
Registering products helps you obtain support easily with top priority as we can access the initial order details & the product SN code. ATOTO has been continuously improving the system firmware of the F7 series every a few months once necessary.
Get continued firmware updates when available to reduce bugs and add new features. This item is in the category "Consumer Electronics\Vehicle Electronics & GPS\Car Video\Video In-Dash Units w/GPS". The seller is "utowinonline" and is located in this country: US.
This item can be shipped to United States.
Type & Package: 7in F7 XE+Rearview Cam
Brand: ATOTO
Model: F7EBG2A7XE
Type: Digital Media Receiver (No CD)
Unit Size: 2 DIN
Features: Bluetooth Ready, HD Radio Ready, Memory Card Input, Remote Control, Smartphone Charging, Steering Wheel Control, Touchscreen, USB Input, Wireless & Wired Android Auto, Wireless & Wired Apple CarPlay, SD Card Port, Lifetime Map Updates, Lifetime Traffic Updates
Screen Size: 7in.