Double Din Car Stereo Corehan 10 Inch Touchscreen Car Radio Bluetooth Multimed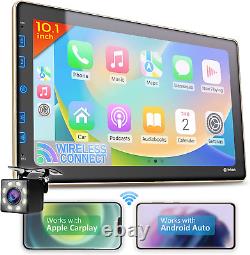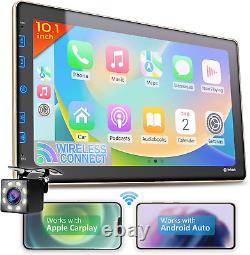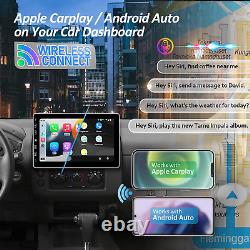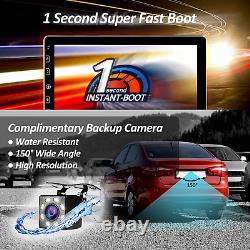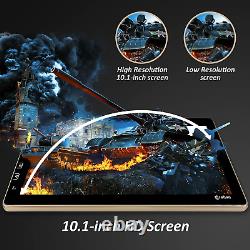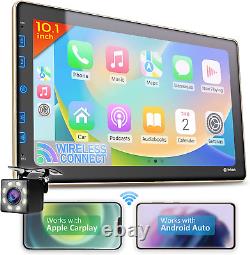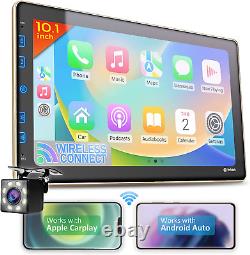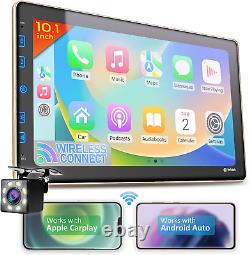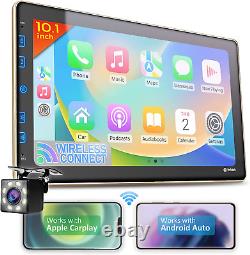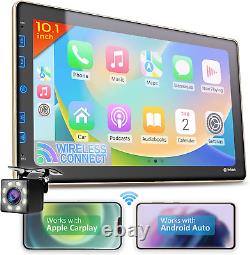 Compatible with Wireless CarPlay and Wireless Android Auto. Turn Your Dashboard into a Mobile Command Center - Your dashboard just got smarter. 1 second super fast boot. Multimedia Player - Equipped with USB to offer multiple options for music and movie enjoyment in the vehicle. The Bluetooth connectivity allows for hands-free calling, and wireless music sharing, wireless Carplay, wireless Android auto via your smartphone.
It delivers an amazing experience for entertainment and beyond during your drive. Your Car's Best Assistant - Come with a complimentary water-proof, wide-angle reverse camera. New Mounting Install Design - Perfect fit for Metra & Scosche's aftermarket dash kit. The newly designed mounting bracket can be easily and quickly installed on all aftermarket double-spindle dash kits.
The following aftermarket accessories are generally required according to car model, make and year of production. Corehan car stereo is compatible with the dash kit of most of the aftermarket parts retailers in the US e. Some car models need to install an additional insterface to retain features like SWC, amplifier, etc.
It is not necessary, but when the car radio antenna plug is not ISO socket, an adaptor conversion plug is needed. If you have questions about choosing aftermarket parts or installation, you can always contact Corehan support team for help. Driving your car just got safer and more entertaining. Driving should not just be about getting from one location to another. After all, the trip can be just as important and meaningful as the destination. So while on the road, why not put on your favorite playlist? Perhaps you want to call someone to let them know where you are. Or if you've got passengers, maybe you want to make sure they're enjoying the ride. The lastest 10 inch touch screen wireless Apple Carplay double din car radio brings you a new driving experience. Wireless Apple Carplay & Wireless Android Auto.
Getting hungry while you're driving? Just ask your voice assistant to look for local restaurants that you can stop by along the way.
If you're driving to a new city, you can open your GPS app for efficient and accurate navigation. You can activate all these features via a voice command feature so you can keep your eyes on the road the whole time. Superb Vivid 10 inches Display. Lagging and over-saturated displays can affect your whole viewing experience so don't waste a good movie on a subpar screen.
Our stereos are equipped with a 10 inches high definition screen which boasts faster response rate, with a high resolution of 1024x600, support to play 1080P video, the 10 inch touch screen lets you enjoy sharper and more defined details, as well as more vivid colors. Your passengers won't be able to take their eyes off the screen! New upgrade 1 second super fast boot, no need to wait, you can listen to music or radio immediately while powering on your car. Built-in DSP smart chip, 10 bands EQ adjustment, this stereo lets you enjoy crisp and clear sounds while you drive.
It also offers a wide range of multimedia input. You can insert a micro SD card or a USB flash drive on the front panel to play your saved music. Sound trips have never been this awesome and immersive. Music Everywhere - You can instantly share all your favorite music in driving from your smartphone.
Parking can be very challenging especially if you have to do it in tight spots, or if you have limited visibility behind your car. Don't worry, we've got your back. This premium bundle comes with a complimentary backup camera.
The 10 inches screen will automatically display the rear camera feed when you shift into reverse. The 150°wide viewing angle provides excellent visibility so you can park with peace of mind. Not all places have mobile reception or internet signals. You can also hop on news broadcasting networks to stay up to date with current events, sport news, and weather forecasts.
Support Video Output, More Fun for Everyone. Kids can get bored and irritable quickly when traveling for a long time. Make sure you keep them and everyone else in your car fully entertained and engaged while you drive for hours. What's cool is you can also cast movies onto a headrest monitor so even your passengers in the backseat can join in on the movie marathon fun. (Note: stereo only supports single video output, if you have more than one monitor in the car, you can install a video splitter interface to link multiple screen output).
Perfect fit for Metra & Scosche's aftermarket dash kit. The newly designed mounting bracket can be easily and quickly installed on all aftermarket double din dash kits in the U. We offer full aftermarket support and installation. Your car is not simply a vehicle that lets you travel from point A to point B.
It's a reflection of your unique style and personality. Personalize your car stereo so that it vividly captures your mood, preferences, and style.
The colors of the side keys and backlight can be changed into seven different shades. Choose from Blue, White, Green, Cyan, Red, Magenta, or Yellow, so that it matches your car interior.