Pioneer MVH-200EX Double DIN Bluetooth In-Dash Digital Media Car Stereo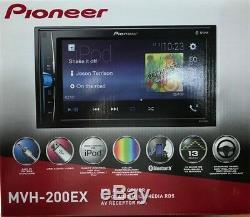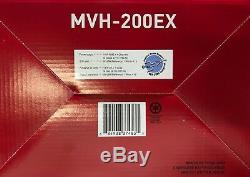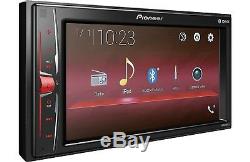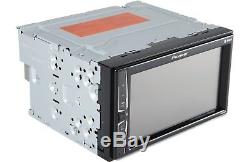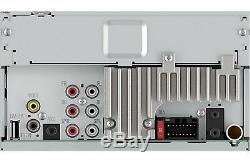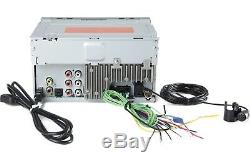 The MVH-200EX is a new entry-level in-dash multimedia A/V receiver designed to improve in-vehicle entertainment and connectivity with your smartphone. Enjoy features such as built-in Bluetooth for hands-free calling and audio streaming.
It also has audio/video playback available from USB sources. Safety features such as back up camera ready and much more.
Memory Card Slot USB memory. RMS Power (CTA-2006) 14 watts.
Switchable Rear Preamp Outputs No. Steering Wheel Control Compatible Adapter required.
Touchscreen & Steering Wheel Control. Clear Resistive Touchscreen: The MVH-200EX features a 6.2 clear resistive LCD touchscreen with a display resolution of 800 x 480 (RGB), for a total of 1,152,000 pixels. The clear resistive touchscreen is designed to enhance the visibility of on-screen graphics and images, making them appear clear and crisp.
The LCD touchscreen allows you to control this unit and a connected component, such as an iPod/iPhone, a USB mass storage class device, or Bluetooth source. Menus appear on screen for making function choices, audio adjustments, and setting up the system. Favorite Menu: You can register the desired menu items on the MVH-200EX's "Favorites" menu screen. Registering your favorite menu items allows you to quickly jump to the registered menu item by a simple touch on the favorites menu. Up to 12 menu items can be registered as a "Favorite". Background (Wallpaper): You can select between a variety of preset background (wallpaper) images for the Menu screen and AV operation screen. You can also adjust the color of the on-screen display; choose between red, amber, green, blue or white. Picture Adjustments: You can store numerous video settings for the head unit's video sources and rearview camera; including brightness (adjusts the black intensity), contrast (adjusts contrast) color (adjusts color saturation), hue (adjust color tone), and Dimmer (adjusts brightness). Widescreen Modes: You can choose from the following widescreen modes when playing back video - Full (4:3 picture is enlarged in the horizontal direction only; enabling you to enjoy a 4:3 picture without any omissions), Zoom (4:3 picture is enlarged in the same proportion both vertically and horizontally; ideal for a 16:9 screen), Normal (4:3 picture is displayed as it is), and Trimming (image is displayed across the entire screen with horizontal-to-vertical ratio left as is). Front-Panel Control w/ Custom Illumination: In addition to the touchscreen controls, the unit includes frequently used buttons along the left edge of the screen. The color of the button illumination can be set to red, amber, green, blue, white, or rainbow (constantly cycling through the color spectrum). You can also create a custom color to match your vehicle's interior lighting (112 colors to choose from). Dimmer: To prevent the touchscreen display and button illumination from being too bright at night, the illumination is automatically dimmed when the car's headlights are turned on. The automatic dimmer function only works when the orange/white illumination wire in the wiring harness is connected to the vehicle's headlight circuit. You can also turn on or off the dimmer manually. You can even set a timer for the dimmer to turn on or off. Parking Brake Interlock: This unit has a parking brake interlock system that prohibits viewing of video programming and operating certain controls when the vehicle is in motion. In order to watch video on the in-dash monitor, the vehicle must be stopped with the parking brake engaged. The head unit's light green wire must be connected to your vehicle's parking brake detection circuit. The head unit's touchscreen will display Attention! Viewing of front seat video source while driving is strictly prohibited, if you try to watch a video when your vehicle is in motion. This unit is compatible with the following Bluetooth Profiles.
Audio Streaming: A2DP 1.3 (Advanced Audio Distribution Profile), AVRCP 1.6 (Audio/Video Remote Control Profile). Note: Due to the differences in Bluetooth technology, some Bluetooth enabled devices may be incompatible, function improperly, or may not support all features when used with the Pioneer MVH-200EX.
You are even able to keep two Bluetooth-enabled smartphones connected at the same time, so you can switch between phones from the head unit's touchscreen, without having to connect or re-connect devices. Auto Re-Connection: Once an already paired Bluetooth device is in close proximity to the receiver, the auto connection function automatically links the head unit and device together. If two Bluetooth devices were connected the last time, the two devices are connected to this unit automatically in the order that they are registered in the device list. Thanks to the latest Hands-Free Profile (HFP 1.6) with wideband speech capability, the MVH-200EX provides more natural sound quality and details during wireless calls.
You can manually answer an incoming call or have the unit automatically answer the call. Making A Call: The MVH-200EX offers a variety of ways to make call using the in-dash receiver.
Call Log: The 80 most recent calls dialed, received, and missed are stored in memory. You can browse them and call numbers from these lists.
The vehicle's parking brake must be engaged to access these functions. Wireless Audio Streaming: The Pioneer MVH-200EX also supports wireless audio playback (AD2P) and control (AVRCP) of a Bluetooth enabled audio player or smartphone. The head unit can stream music stored on your Bluetooth enabled device or music apps you have downloaded on your device. Advanced Music Navigation: In addition to basic playback functions (Play/Pause, FF/RW, Skip, Random/Repeat), the MVH-200EX lets you browse your stored music by Playlist, Artist, Album, Song, etc..
(AVRCP 1.4 phones only; which includes Android 4.0+ and iPhone 5.0+). Song/Artist Info: The head unit will also display your stored music's and music app's song information; such as Artist name and Song/Album title (app must also support). Android MTP Playback: The Pioneer MVH-200EX supports MTP for playback & control of stored MP3/WMA/AAC music files on your Android (OS 4.0+) device through the Pioneer receiver's rear-panel USB port. In this mode, you get basic playback control (like Play/Pause & Previous/Next Track), plus song/artist/album information on the receiver's LCD touchscreen. During MTP connection, you cannot use your Android smartphone's touchscreen to control music playback and you cannot select music apps from your smartphone for playback.
IPod Direct Connect: The Pioneer MVH-200EX's rear-panel USB port can be used to connect your Lightning Apple device or 30-pin iPhone 4S to the head unit. You'll need a Lightning-to-USB cable to connect your Apple device with Lightning connector, or a 30-pin to USB cable to connect your iPhone 4S.
The USB connection allows for audio playback, music navigation, information display (including album art), and charging of your compatible iPhone or iPod. Audio Control: From the head unit's touchscreen, you can search your iPod/iPhone's audio content by Playlist, Artist, Album, Song, Podcast, Genre, Composer, or Audiobook. You can also select Random & Repeat functions for a certain song or specific folder. You'll still be able to control your iPod or iPhone from the device's touchscreen too. Song/Artist/Album Info: In addition, the head unit will display your iPod/iPhone's stored music information including Elapsed playing time, Artist name, Song & Album title, as well as Album Art.
Note: If there are 10,000 songs or more on your iPod/iPhone, it will require almost one hour to fully populate the song list. Smartphone Charging: The head unit's USB connection provides 5V/1A of current to power and charge your connected iPod/iPhone or Android device when your vehicle's ignition switch is set to the'ACC' or'On' position.
If your mobile device has no initial battery charge, then the unit will not recognize it. Apple Device Compatibility Chart: The Pioneer MVH-200EX supports the following iPod/iPhone model functions (as of 3/1/2018).
The item "Pioneer MVH-200EX Double DIN Bluetooth In-Dash Digital Media Car Stereo" is in sale since Thursday, May 10, 2018. This item is in the category "Consumer Electronics\Vehicle Electronics & GPS\Car Audio\Car Audio In-Dash Units". The seller is "maxxa1" and is located in Oakton, Virginia. This item can be shipped to United States.
Model: MVH200EX
Unit Size: 2 DIN
Type: DVD
Features: Bluetooth Ready
MPN: MVH-200EX
Brand: Pioneer