XRROSS Android 8.0 Car audio player auto radio GPS Wifi BT Double Din 4GB+16GB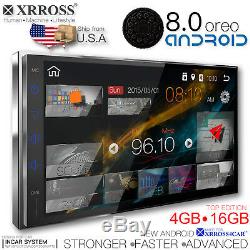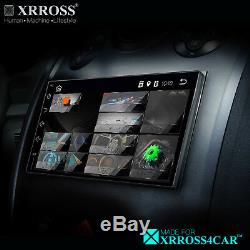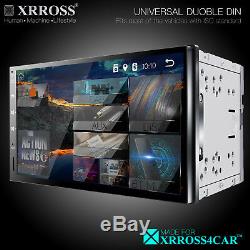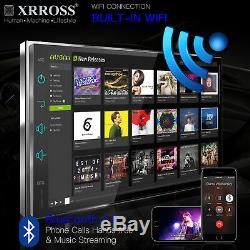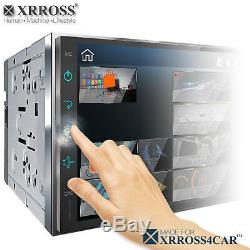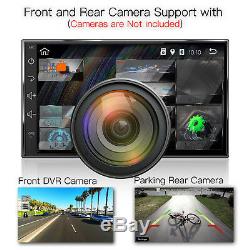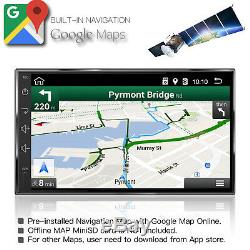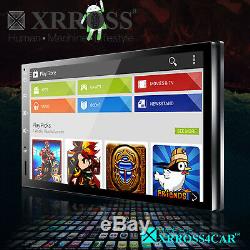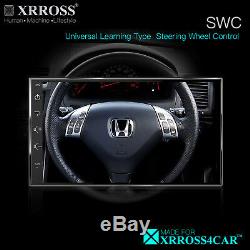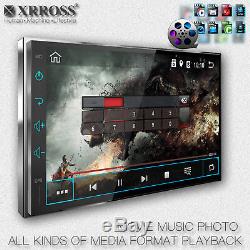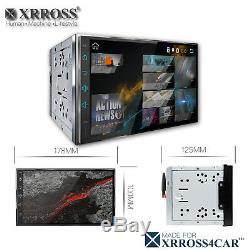 CORTEX A53 OCTA-CORE 4GB 16GB. The Most Power in-car Headunit Ever! Technologies, Art & Design makes XRROSS products unique! 7.0 INCH TFT DISPLAY 1024X600HD. CORTEX A53 OCTA-CORE CPU 4GBRAM+16GBROM.
CRYSTAL FULL TOUCH 256 COLOR ILLUM. EMOTIONWINGS DSP SOUND 4X50WATTS MAX. XRROSS4CAR & ANDROID 8.0 DUAL SYSTEM. LIFETIME SOFTWARE UPGARDE OONLINE DIAGNOSTIC.
XRROSS CLOUD VALUE ADD SERVICES. Fit Your car with XRROSS4CAR NAVIGATION SYSTEM. NEW FEATURES AND FUNCTIONS: NEW XRROSS OPERATION SYSTEM+ANDROID 8.0 OREO 4GB RAM+16GB FLASH CORTEX A53 OCTA CORE HI-SPEED CPU NEW HARWARE MORE RELIABLE NEW CLOUD SERVICE CENTER WITH ON-LINE SOFTWARE UPGRADE &DIAGNOSTIC. Features and Specification: Android® 8.0 Oreo Latest Operating System Xrross® Advanced IN-CAR operating System Cortex A53 Octa-Core CPU 4GB RAM and 16GB Flash Double DIN Universal Size fits most cars 7inch HD 1024x600 TFT with Multi Touched screen WIFI built-in for Internet Playback all Audio and Video files locally or from Internet Google Play and APPs support GPS Navigation built-in. INSIDE MOMEORY HI-SPEED SOLID STATE MEMORY. We use only Hi-Speed full Solid state Memory DDR3 (Double-Data-Rate Three Synchronous Dynamic Random Access Memory) up to 6400 MBPS speed. And EMMC5.0 Hi Speed Falsh Meomory up to 400MPBS. NSIDE MOMEORY HI-SPEED SOLID STATE MEMORY 4BG+16GB TOP VERSION. MEDIA PLAYBACK PROCESSOR & CPU. CORETEX A53 OCTA CORE Ultra-Hi Speed MAIN FREQUENCY This DSP mainly for running the Android Operation System. With this powerful processor, you will never lost anywhere and anytime. At the same time, we have the independent ARM core for running the XRROSS4CAR system, DVD, BT, VMCD , audio and radio all those functions. So two powerful Chip set makes the whole unit working perfectly and smoothly! ULTRA-SPEED CPU CORTEX A53 OCTA-CORE.
OPERATION SYSTEM XRROSS4CAR + ANDROID 8.0 OREO DUAL SYSTEM. We keep our operation system the latest version in the market with NEW technologies and features. Google Voice, Google Map, Google play, and millions of APPs suitable for car and driving.
The most important is, keep your devices always updated. Its not only a car entertainment, its a fully completed in car system.
With Over year Experience in Car audio, Xrross accumulated and Develop the most unit and convenient in Car System base on Android Core. No matte how many functions are in New Android, but to us The most important to Driver is Easy for Use! MEDIA PLAYBACK XRROSS4CAR UPGRADABLE UI FOR CAR. We do not only produce an android Tablet, we produce professional in-car system base on Android.
DESIGN FOR DRIVE Fashion Design Full Touch 256 colors KeyPad. We design a special Panel for driver Simple but Not Simple! The whole piece of Crystal Touch Screen makes the unit so elegant and Clean, under the glass Even the touch keypad comes with 256 Color illumination!
We put the USB and Aux Jack behide Clean and clear, but full of surprise. DESIGN FOR DRIVE PLUG&PLAY USB TF/MICRO SD SLOT. We design a special Full touch screen that built in front MiniSD Slot, Fron rear, you will find Dual Normal USB2.0 Slot interface for media and expandable devices plug&play Front TF/MiniSD card for Navigation, music. Its so convenient for drivers, connect and control everything! MAIN DISPLAY TOUCH LCD TFT DISPLAY.
7 inch Color TFT LCD with Touch Screen. Screen is never like that crystal clean in car head unit. Suppor HD resolution video playback. With amazing color contract and best performance of responsible time. No matter for HD movie, or HD camera in, you will have awesome experience with it.
Size does matter for display, but performance is more important! 256 Color Night Illumination Key Pad Full Glass Touch Panel. FULL CRYSTAL GLASS TOUCH CONTROL. Unit is euqipped with Full Crystal clean galss and intergrated TFT Touch Control and Control Key pad.
Its Hi-Sensitive Touch screen for controlling the whole system. With 256 Color illumination, It light up your colorful life!
MEDIA PLAYBACK 256 Color Key Illumination. Come with 256 Color of night Illumination, you can select the most favorite color for your car Everyday change the color, change your mood! Even you can select the circle mood that let the unit change color automatically. MORE COLORS, MORE COLORFUL LIFE.
TOUCH CONTROLLING HI-SENSITIVE MULTI-TOUCH SCREEN. With HD resolution and Hi-Sensitive multi-touch controlled.
You can easily use you fingers to control everything in car. We only use Industrial Standard Touch Screen to make sure the system works under extreme conditions. SUPPORT DUAL CAMERA FUNCTION FRONT AND REAR DUAL CAMERA.
Your Unit can support both Front and rear camera at the same time! With Front and rear camera at the same time, you don't have any blind view point. Check the situation anytime from screen. Auto parking Switching for rear camera CBS signal Accepted for most CCD cameras PAL/ATSC auto adapting Front Camera Switching anytime available Same time support for both functions. SUPPORT DVR FUNCTION DIGITAL VIDEO RECORDER HD 1080P.
Automatically Start/Stop recording Full HD video Support 1080P Real-time playback. Video Recall and playback Different Resolution selectable(480P/720P/1080P). WIRELESS CONNECTION BUILT IN WIFI RECEIVER.
Unit already Built-in WIFI receiver for INTERNET connection. Anytime Anywhere you are connected! BLUE TOOTH BUILT-IN BLUE TOOTH FOR MUSIC/CALLS.
NAVIGATION BUILT-IN GPS NAVIGATION SYSTEM. Unit built-in Satellite GPS(Global Positioning System) Signal receiver, with INTERNET connection, you can access any Navigation software. And also of cause Your Google Map auto matically Synchronized with your unit. Also, you can download the off line MAP, so that even you don't have connection, still can use the Navigation.
Pre-installed Navigation Map with Google Map Online. Off line MAP MiniSD card is NOT included. For other Maps, user need to download from App store. MEDIA PLAYBACK MULTI MEDIA PLAYBACK.
This unit comes with power CODEC that can read and playback all kind of Media Files from USB/MiniSD and from Internet Streaming in HD format. MOVIE MUSIC PHOTO ALL KINDS OF MEDIA FORMAT PLAYBACK. Theres a very important function called Mirror function. Unit links to you mobile devices. Its such a convenient way!
The screen will automatically adjust to fit in vertical and horizontal angel! For IOS, you have single way mirror. What you see in your Apple devices will be mirror to th head unit.
For video, you have auto screen angel alignment also. APPS STORE Google Play Store.
Unit Built in Google play store with uncountable Apps for you to download Its not only a unit, but nu-limit possibilities! Enjoy your driving time with this unit. ENJOY THE MOST UPADETED APPS. VOICE CONTROLLING GOOGLE VOICE CONTROL.
All those amazing functions, you just need to talk to it! MEDIA PLAYBACK Worldwide Language Support. With Google Android Language system, support worldwide language menu. BUILT-IN SWC STEERING WHEEL CONTROL (SWC). Unit built-in Steering Wheel Control for your car, With the Lairing Type SWC, you can connect to your car Steering Wheel easily and learn the control Keys on your Steering Wheel.
Keep your hands on the Steering Wheel, but control everything there! CAUTION: This is Universal Learning Type SWC with 3 Lines (Key_1 and Key_2 and Key_GND), it fits most of the cars Steering Wheel. But you may need extra Adapter cable or Specialist to install it. Note: RDS service and stations are different from every local providers. BEST SOUND SYSTEM 4x50 WATTS MAX POWER WITH DSP.
Unit Equipped with 4x50Watts Max power to drive the speaks. It gives you unbelievable endless sound power!
More that that, Its the advance built-in Sound DSP (digital Signal Processor)! The hi-speed processor provides you best controlling of your sound in car.
DSP SOUND SET YOUR GOLDEN POSITION. DSP SOUND PRESET & CUSTOMIZED EQ. Thanks for the DSP, you have so many rich EQ mood!
With 6 preset EQ mode, you can always find the best and favorite one for you and your music. If you are good DJ, we also provide USER mode for you, you can make your own EQ!
MORE ADVANTAGE ON LINE CLOUD AND VALUE ADD SERVICES. ENJOY DAILY LIFE WITH XRROSS CARE CENTER. Xrrosscarecenter is not only for your device, but also for you!
Built with cloud data center, we provides all kinds of service on line from products specification, users manual to installation guiding, Trouble shooting, and also the Apps for you devices. Besides that, we also have more and more service provider base on products who providing the best service for user. We keep upgrade our software on the center so that you unit never get old. We keep developing more and more Apps for your devices to make sure everyday is fun! WE TAKE CARE OF DEVICES AND DRIVERS.
INSIDE MOMEORY EMOTIONWINGS ADVANCED SOUND SYSTEM. XRROSS EMOTIONWINGS Advanced In- Car Audio system is a full DSP (Digital Signal Processor) Hardware Structure which is specially design for In-car used.
Precisely adjus each and every speaker channels sound Frequency/EQ/Gain/Delay; With up tp 6 Channels /50Watts RMS power Class-D power amplifier ouput built-in. Sound is never that wonderful in car! With our innovation sound technologies and Powerful DSP Chip set, Plugs Xrross Controlling Apps, you can achieve the most amazing audio effect from your car! ADVANCED DSP SYSTEM PRECISELY CUSTOMIZING YOUR CAR AUDIO.
The DSP BOX/Speakers/Amplifier ARE NOT included! INSIDE MOMEORY BLUETOOTH 4.0 BLE WIRELESS CONTROLL. EW Advanced Audio System Adpator Bluetooth 4.0 BLE technologies that allow multi users to control the system Wilress. Availabel for Android and iOS plaform. BT4.0 BLE READY BLUETOOTH BLE CONTROLLING.
INSIDE MOMEORY NEW FEATURES AND FUNCTIONS. Germany DSP Chip set for Car use. 6/8 channels Amplified audio signal output Class-D Amplifier built in RMS 50W power output for each channel 32 adjustable EQ for each channel +/-6db Gain control for each channel 0-10ms Adjustable Time Delay for each channel Preset Sound effect Bluetooth 4.0 support Multi users Data file save and input. BT4.0 BLE READY MOST ADVANCED PRECISION AUDIO TUNER. EXPANDABLE ACCESSORIES More Expendable Functions.
Android is an open system, same is our unit. We provide open interface for difference kinds of Accessories and parts, so that you are no limited to what you bought, you can build you dream machines by yourself. The accessories are compliant with Standard USB, simply Plug&Play to make it work. Also We support wireless interface for WIFI and BT(3.0/4.0) accessories, its more than easy!
DTV, DAB+, OBDII Module , cameras or other external Modules are not included in Standard Price Package. Support all kinds of digital Broadcast External Module with XRROSS4CAR.
You can Direct control the DTV from Xrross Head unit with touch Screen. DIgital TV Box are not included in Standard Price Package.
WIRELESS GATEWAY 3G/4G GATEWAY INTERFACE. With the USB type gongle, you can put your 3G/4G data SIM card in it, and the unit can get connection independently.
Its a INTERNET connection Gateway. 3G/4G dongle is NOT included in standard Pack. TPMS READY Tire Pressure Monitoring System.
XRROSS TPMS SYSTEM Unit built in TPMS interface. 24hours x 7days Non Stop monitor your cars tire pressure level. OBD II CAR OBDII DIAGNOSTIC SCANNER. The OBD II Wireless box provide you the auto diagnostic function. You can check you car all the time-to see whether its in a good status or need to be fixed.
OBDII Enginer scanner is not included. Fit Your car with UNIVERSAL DOUBLE DIN STRUCTURE. Universal 2 DIN size that fits most of the cars in the market. While with the fullsolid mechanical structure provides you the 7 Inch Wide Screen Display.
Enjoy the Multimedia in different angel! Fit Your car with EASY INSTALLATION.
Just simply plug and play. You can replace your old models with this magnificent unit! STRONGER STRUCTURE BUILT IN BIG POWER AMPLIFIER. E The Main Unit is build with 4X25WATTS RMS Power Amplifier System that can drive 4 Speaker up to 200Watts Max Power.
The Thick Heat Sink and special connection metal steps allow the harness more space for heat dissipation. STRONGER STRUCTURE FULL SOLID STATE STRUCTURE.
The Main Unit is build with all Solid-State Material in aluminum metal case. Support Solid state Memories like Flash Hard Disc.
This Structure design makes the unit more stronger and More reliable to resist the hi-tempereture and shock viberation. With Aluminum Heat sink, even when you are in full power, the heats will be dissipated quickly so that the unit wont has problem in running any program. CONNECTING AND BEEN CONNECTED ALL KINDS OF IN/OUT INTERFACE. Main unit provides plenty of IN and OUT interface.
Except has the Original CAN BUS interface with your cars, it also can connect to many external Devices which allows you to customize your own system. Fit Your car with CONNECTION & EXPLANDABLE. FULL ACCESSORIES WAHT'S IN BOX.
Its time of Big Screen! Its time to change your old radio to a new XRROSS4CAR Navigation System!
Specification: DIN:Universal 2DIN CPU:Coretex A53 Octa-Core LCD: 7.0inch HD 1024x600Pix Touch Screen:Full Glass Capacitive Multi Point Touch Memory:4GB RAM+ 16GB Flash Android Versino:Android 8.0 Oreo Radio: AMFM RDS with 30 Preset Stations Audio: DSP with Fader/balance/Treble/Bass/Preset EQ Power: 4x25Watts RMS Wifi:802.11 b/g/n Bluetooth:4.0 GPS: Bulit-in Satellite GPS receiver Media: All AV format s. The item "XRROSS Android 8.0 Car audio player auto radio GPS Wifi BT Double Din 4GB+16GB" is in sale since Thursday, April 26, 2018. This item is in the category "Consumer Electronics\Vehicle Electronics & GPS\Car Video\Video In-Dash Units w/GPS".ltd" and is located in LA,CA,. This item can be shipped to United States.
WIFI:: WIFI built-in for Internet
Navigation:: GPS Navigation built-in, support Offline Map
Camera and DVR:: Front, Rear Dual Camera and USB DVR Camera
Model: US-X7508A7PX5-S4
Country/Region of Manufacture: Hong Kong
Unit Size: 2 DIN
Blue Tooth:: Phone Calls and Music streaming
Power Output:: 4x25Watts (RMS)/ 4x50Watts (Max)
Radio:: RDS AM/FM with 30 Preset Stations
Media Playback:: Audio/Video/Photo from USB/SD/Aux and Internet
Android Version:: Android 8.0 Oreo Latest Operation System
CPU, RAM and ROM:: Cortex A53 Octa-Core CPU with 4GB/16GB
Display:: 7inch HD 1024x600 TFT with Multi Touched screen
Operation System (OS):: Xrross® Advanced IN-CAR operation System
Features: 2-Way Radio
Sound DSP: FAB; 12 Bands and 6 preset EQ curve
Sub-Woofer: Adjustable Frequency Filter & Bass Level
MPN: X7508A8PX5-S4
Touch Screen: Hi-sensitive Multi Touch screen
XrrossCareCenter: Online supporting
Mounting Standard: 2 DIN
Video System: Auto
Brand: XRROSS
Screen Size: 7in.